QUALITY TIRES AT A GREAT VALUE
Whether you're in the market for repair or replacement tires, our Certified Service technicians at Sisbarro Mitsubishi in Las Cruces, NM can handle all of your tire needs.
Not sure about your tire size? It's the combination of letters and numbers located on the side of your tire. Once you've selected the right set, schedule an appointment that's convenient for you.
Click here to
schedule a service appointment today!
Tire Brands
Firestone, Michelin, Goodyear. BF Goodrich, Kelly, Continental, Hankok, Bridgestone, Uniroyal, General, Pirelli
Maintaining Your Tires
WHEEL ALIGNMENT & BALANCE
WHY IS WHEEL ALIGNMENT IMPORTANT?
Proper wheel alignment is key to prolonging the life of your tires. If your vehicle is misaligned, it can cause your tires to wear unevenly, and you may experience handling problems such as pulling or abnormal vibration.
Tires and wheels are aligned and balanced at the factory to provide the longest life and best overall performance. Adjustments to wheel alignment and tire balancing are not necessary on a regular basis. Consider a wheel alignment check if there is unusual tire wear or the vehicle is significantly pulling to one side or the other.
A tire that is out of balance often affects ride quality and can shorten the life of tires, bearings, shocks, and other suspension components. If the vehicle is vibrating when driving on a smooth road, the tires and wheels may need to be rebalanced.
WHAT IS CAMBER?
Camber is the tilting of the wheels from the vertical when viewed from the front of the vehicle. When the wheels tilt outward at the top, the camber is positive. When the wheel tilts inward at the top, the camber is negative. The amount of tilt is measured in degrees from the vertical. Camber settings influence the directional control and the tire wear.
HOW DOES CAMBER AFFECT WHEEL ALIGNMENT?
Too much positive camber will result in premature tire wear on the outside of the tire and cause excessive wear on the suspension parts.
Too much negative camber will result in premature tire wear on the inside of the tire and cause excessive wear on the suspension parts.
Unequal side-to-side camber of 1 degree or more will cause the vehicle to pull or lead to the side with the most positive camber.
WHAT IS CASTER?
Caster is the tilting of the uppermost point of the steering axis either forward or backward, when viewed from the side of the vehicle. A backward tilt is positive and a forward tilt is negative. Caster influences directional control of the steering but does not affect the tire wear. Caster is affected by the vehicle height, therefore it is important to keep the body at its designed height. Overloading the vehicle or a weak or sagging rear spring will affect caster. When the rear of the vehicle is lower than its designated trim height, the front suspension moves to a more positive caster. If the rear of the vehicle is higher than its designated trim height, the front suspension moves to a less positive caster.
HOW DOES CASTER AFFECT WHEEL ALIGNMENT?
With too little positive caster, steering may be touchy at high speeds and wheel returnability may be diminished when coming out of a turn.
If one wheel has more positive caster than the other, that wheel will pull toward the center of the vehicle. This condition will cause the vehicle to pull or lead to the side with the least amount of positive caster.
WHY IS TIRE PRESSURE IMPORTANT?
Air is a gas, expanding when heated and contracting when cooled. For most of North America, fall and early winter are especially important times for checking tire pressure — as the ambient temperature falls, tire pressure goes down. A good rule of thumb: with every 10 degrees Fahrenheit of temperature change, tire pressure changes about 1 psi — higher as temperatures rise, lower as they fall.
What happens if a tire is underinflated?
Premature or irregular wear.
Poor Handling.
Reduced Fuel Economy.
Overheating, which could lead to a blowout!
What happens if a tire is overinflated?
Unusual wear.
Poor handling.
Rough ride.
Greater risk of damage from road hazards.
HOW TO CHECK TIRE PRESSURE
Check your tires at least once a month when the weather is cold (let the vehicle sit for at least 3 hours). The Tire Information Label located on the inside of your doorframe has the recommended cold tire pressure for your vehicle. Learn more about tire load information here. Use a quality gauge. Don't try to eyeball it—radial tires may appear fine even when they're underinflated. Look for objects that can get wedged in the tread—they'll work themselves even further into the tire and cause air loss. To make sure you're covered, every check of your tires should include a check of your spare (if available), as well.
WHAT IS A TIRE PRESSURE MONITORING SYSTEM?
The Tire Pressure Monitoring System is designed to warn the driver when low-tire-pressure conditions exist. A sensor measures tire pressure and temperature, then transmits data to the tire-pressure monitor. If the pressure in one or more of your tires is 25 percent or more below the vehicle manufacturer's recommended cold inflation pressure for tires, a warning indication will alert the driver.
Your Original Equipment TPMS sensor battery can last up to 10 years with normal use. When the TPMS battery fails, the sensor will need to be replaced.
How do you know that air pressure is low or whether the TPMS has malfunctioned?
If the Tire Pressure Monitor light comes on and stays solid with a check tire pressure, low tire pressure, or add air to tire message, then check and adjust all tire air pressures to the recommended levels. Next, drive the vehicle to turn the light off.
If the Tire Pressure Monitor light appears as a blinking yellow lamp for more than one minute and stays solid, then diagnostic service is needed. If your TPMS is not functioning properly, it cannot detect or signal a low-tire condition.
IS NITROGEN BETTER THAN AIR IN YOUR TIRES?
The use of nitrogen gas to inflate tires is available through some dealers. Benefits under controlled conditions include:
A reduction in the loss of tire pressure over time
A reduction in the variance of tire pressures with temperature changes due to reduction of water vapor concentration
A reduction of long-term rubber degradation due to a drop in oxygen
Important: These are obtainable performance improvements when relatively pure nitrogen gas is used to inflate tires under controlled conditions.
Inflation pressure maintenance of tires is critical for overall tire and vehicle performance. Maintaining the correct inflation pressure allows the tire to perform as intended, including for comfort, fuel economy, stopping distance, cornering, traction, tread wear, and noise.
WHY IS TIRE ROTATION IMPORTANT?
It's a known fact that regular tire rotation extends the life of your tires and improves performance. Tires are rotated to achieve a uniform wear for all tires. Each tire performs different tasks (such as steering in front- versus rear-wheel drive), therefore tires wear at different rates. Tires should be rotated every 7,500 miles to prevent irregular tire wear.
It's important to rotate your tires according to the correct tire-rotation pattern. Doing so will prolong the life of your tires and will reduce the risk of sudden tire failure. Front tires encounter different tasks than the rear tires. And a front-wheel-drive car's tires perform different tasks than those on a rear-wheel-drive car. See the Maintenance Schedule section in your Owner's Manual for additional information about your specific vehicle.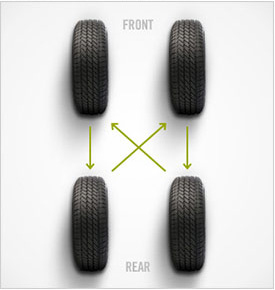 Front Wheel
Pattern for front-wheel drive with same size front and rear non-directional tires.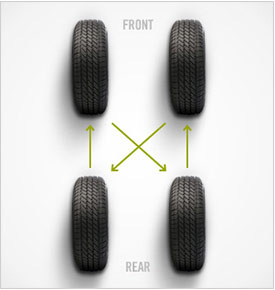 All-Wheel/4-Wheel/Rear-Wheel
Pattern for all-wheel, 4-wheel, or rear-wheel drive vehicles with the same size front and rear non-directional tires.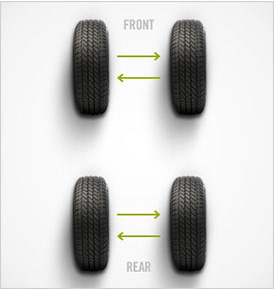 Different Size Tires
Pattern for different size tires on the front and rear, and non-directional tires.
If your vehicle has a Tire Pressure Monitoring System, it will need to be reset after each tire rotation. See your Owner's Manual for details. Or, read more about tire pressure.
WHAT CAUSES WEAR?
There are many factors that can cause tire wear, such as your driving style and tire maintenance habits. Tire replacement is absolutely needed when the tread wear indicators appear. A tire's built-in tread wear indicators look like narrow strips of smooth rubber across the tread and become visible as the tire surface wears. Also, check for the signs of tire wear below.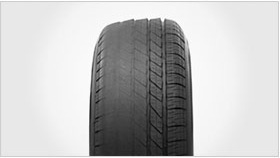 Toe Tire Wear
Excessive wear on the inner or outer edge of the tire, commonly known as toe wear, suggests a wheel alignment issue. This typically produces a feathered wear pattern across both front tires.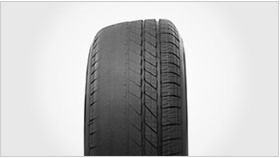 Camber Tire Wear
Uneven wear on one side of a tire tread may occur when the tire is leaning due to camber misalignment.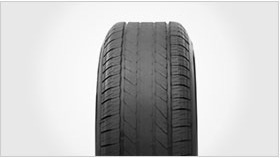 Center Tire Wear
Center-wear occurs when a tire is over-inflated, resulting in the center of the tire wearing quicker than the edges.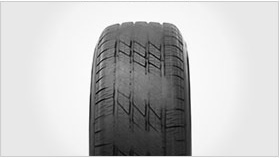 Cupping Tire Wear
Cupping-wear ocurs when a suspension/balance may be worn, bent, or somehow compromised. You'll notice a diagonal scalloping pattern on the tire.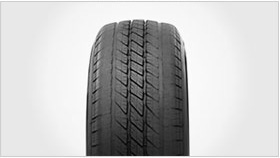 Edge Tire Wear
Edge-wear occurs when a tire is under-inflated, resulting in the edge of the tire wearing quicker than the center.
MEASURING TREAD DEPTH
Digital and Mechanical Tools
A quick and easy way to check your tire wear is with a tread depth gauge. It measures tire tread depth from 0 to 19/32 inch. These tools come in either digital or mechanical versions.
The Penny Test
The easiest way to check wear on your tire is with a penny. Place a penny upside down in between the tire tread as shown on the right. If you can see the top of Lincoln's head, the treads are worn and tire replacement is needed.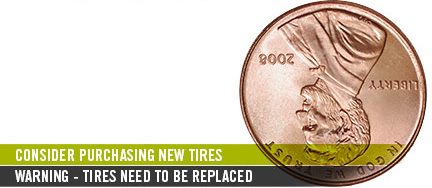 WHEN TO REPLACE TIRES
Tread wear indicators appear when the tires only have 2/32 inch or less of tread remaining. Rubber in tires ages over time. This also applies to the spare tire (if available), even if it is never used. Multiple factors including temperatures, loading conditions, and inflation pressure maintenance affect how fast tires age.
Other warning signs that your vehicle will need tire replacement:
You can see three or more tread wear indicators around the tire.
The tire cord or fabric is showing through the rubber.
The tire tread or sidewall is cracked, cut, or snagged deep enough to show cord or fabric.
The tire has a bulge or split.
The tire has a puncture, cut, or other damage that can't be repaired correctly.
HOW TO PROPERLY STORE TIRES
Tires age when stored normally mounted on a parked vehicle. Park a vehicle that will be stored for at least a month in a cool, dry, clean area away from direct sunlight to slow aging. The area should be free of grease, gasoline, or other substances that can deteriorate rubber. This also applies to unmounted tires.
Parking for an extended period can cause flat spots on the tires that may result in vibrations while driving. When storing a vehicle for more than a month, remove the tires or raise the vehicle to reduce the weight from the tires.